Whew! I'm finally back in my own house and laying in my own bed, after a
long
(but fun and wonderful!) two days in Pasadena, California for the Southern California Kindergarten Conference. This is hands down, one of my favorite professional developments each year. I really have to give my principal a huge shout-out/hug of thanks for consistently letting me take the Friday off for the Pre-Conference session,
and
for footing the (rather large) bill for registration year after year.
This year was especially exciting for me, because I was a featured blogger for the first time during the Blogger Bash on Friday night! It was a humble honor to sit at the bloggers' table with some of the best teacher-authors I know. (
Ummm,
any of you heard of Katie Knight and Kelley Dolling
HELLO
?!? I had the opportunity to see
both
of these ladies' pre-conference presentations, and they were AH-MAH-ZING.)*
*Side note: You should all binge watch Happy Endings on Hulu during your Spring Break this year.
During the Blogger Bash, all the bloggers and I got to rotate around to each table and answer questions about our blogs. For all of you who weren't able to make it to the Blogger Bash, these are the two most frequently asked questions I was asked last night:
First of all, let me just say that I wish I had more time to write blog posts, and that I am in AWE of the women who are able to write on a consistent basis (as opposed to me, who has only written a few times this calendar year so far). But, the posts I do write, are nearly always written between the hours of 11:30pm and 2:30am, when I am unable to shut off my brain and fall asleep. Does that mean that the next morning when I wake up at 6:00am, I am an exhausted zombie? That would be a big fat YES. I read somewhere that you should schedule times to write, just like you would set aside time for an appointment. I would like to get to that point, but if I'm going to make time for something other than exhaustedly putting on sweats and crawling into bed at the end of the day, I want it to be for the gym. (Because let's get real: summer is around the corner, and this body is not bikini-ready.)
When I first decided to begin my blog, I was terrified to begin. I racked my brain, trying to come up with ideas that I thought would be "blogworthy." Finally, I had to just force myself to begin writing, regardless of the degree of importance I believed others might assign to my ideas. No matter what anyone thought (although this was a mute point at the time, because no one was reading my blog yet), I simply began to write. For all of you who are considering a blog, and wondering how you start, you just do. You simply begin writing, about anything, and then bravely press "Publish."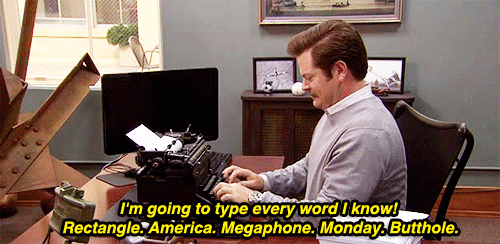 Be brave, dear teacher friends, and take the plunge if you feel like it's been put on your heart to venture into blogging. And TRUST ME; it gets easier and easier with each subsequent click of that little orange button. Before you know it, you'll be like this: